Considering a move to Perth, Australia? Do you want over 3,000 hours of sunshine per year? Breath-taking beaches at your doorstep? How about minimal traffic, safe suburbs, and friendly locals? If you're answering yes, yes, and yes, then Perth, Western Australia is the place for you!
It doesn't matter what stage of your life you're in, there is something to accommodate all lifestyles in Perth.
About Perth
Perth, Western Australia's capital city, is located on the Swan River and lies between the Indian Ocean and the Darling Scarp Ranges making it one of the most isolated cities in the world. Yet, it is the fourth largest city in Australia home to over 2.2 million people with over 33,000 of these locals being kiwis.
With over 3,000 hours of sunshine per year the city Perth has earned itself the title of sunniest city in Australia with temperatures in summer averaging 25 oc. It's also home to some of Australia's best botanical gardens, parks, and the famous Cottesloe Beach.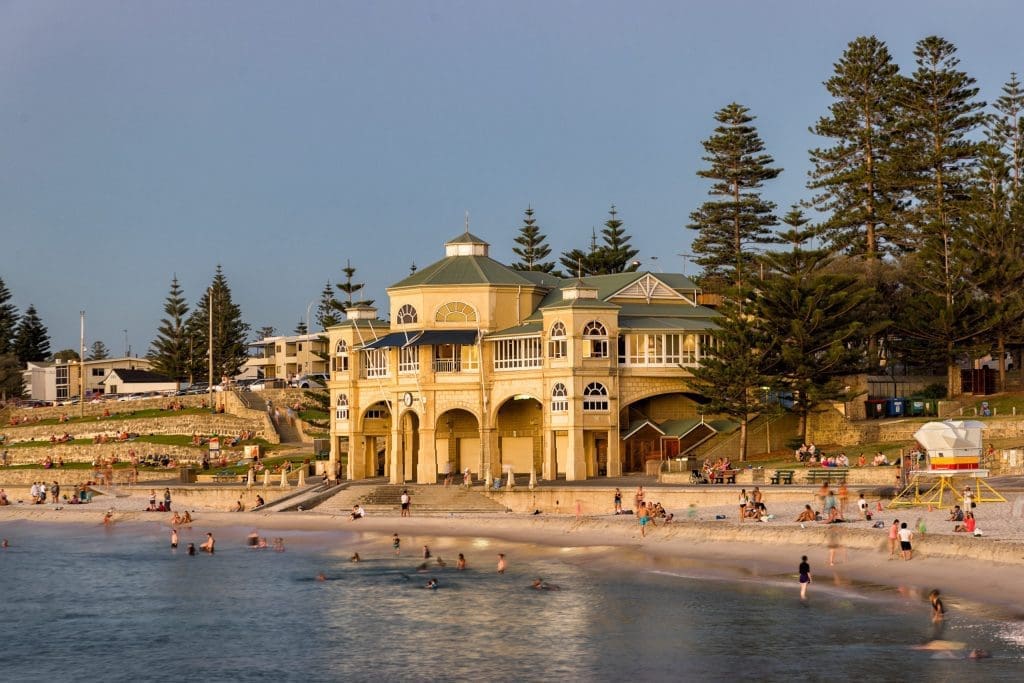 If that isn't reason enough to cross the ditch here are 6 more reasons to relocate to Perth!
(1) It's one of the most liveable cities in the world!
A surf before work, BBQs with friends, and more free time are staples for people living in Perth. Voted as one of the most liveable cities in the world -we can see why.
In Perth people prioritise work-life balance, the locals are friendly and there is an overall laidback lifestyle. With commutes shorter due to less traffic, flexible workdays, and a lower crime rate it is no wonder people are happier living in Perth.
What's more, Perth is an incredibly affordable city with the average cost for a single person estimated to be $1,431 a month without rent and for a family of four around $5,146 a month excluding rent.
If you're looking to buy a home in Perth, your dollar goes a long way. With the median house price roughly $525,000 it is the cheapest capital city in Australia. Compared to Melbourne at $1.125 million and $1.6 million in Sydney.
If you're looking to rent the average monthly cost of a three-bedroom apartment in Perth's city centre is $2,829 compared to $3,664 in Auckland – that is 29.55% lower!
(2) You're Spoilt for Choice!
Whether you're looking to rent or buy you are spoilt for choice in Perth! With each suburb full of apartments, townhouses, and standalone houses you can find the perfect home in the perfect suburb for you.
Here are some of the most popular suburbs in Perth:
Dalkeith – Perth's most affluent suburb is popular with families and people looking for larger homes. Located on the peninsula of the Swan River, it is a low-traffic area with quiet leafy streets. With 8 parks and many reserves all within walking distance, Dalkeith is a beautiful suburb the whole family can enjoy.
Swanbourne – Located 10km from the CBD this beachside suburb is another popular choice for families.  It has an excellent array of schools, parks, walking track, cafes, and restaurants all within easy reach. Popular facilities include Swanbourne beach, the Cottesloe Golf Club, and Allen Park which has tennis, football, and cricket facilities.
Northbridge – This vibrant suburb is perfect for millennials located only one kilometre from the CBD making it an easy commute to work.
What's more, there is an array of bars, cafes, restaurants, shops, and clubs right at your doorstep.
Not only this, but it also has a booming cultural precinct home to the Perth Cultural Centre and the annual Fringe Festival.
Murdoch – This centrally located suburb is perfect for those looking to downsize or retire. The quiet and affordable suburb has close proximity to the Fiona Stanley Hospital and the Bull Creek Shopping Centre. It has excellent public transport and plenty of parks and reserves ready to be enjoyed.
(3) Quality Education
If you're an international student looking to further your studies in Perth, you're in luck with five world-class universities to choose from.
Notre Dame University is a popular choice with international students as it ranks number one for the best international student experience.
While the University of Western Australia is popular with students interested in Medicine, Science, Nutrition, Psychology, and Communications and is ranked 86th in the world.
Other universities include Curtin University, Murdoch University, and Edith Cowan University.
Relocating to Perth with kids? Perth also has a fantastic range of public and private schools to choose from. Popular schools with expats include All Saints College and Guildford Grammar School which are co-ed schools that teach from age four to age 18 (primary to secondary school).
(4) Job Opportunities
If you are interested in a career in resources, energy, mining, or technology then Perth is the perfect place for you. It is recognised internationally for its expertise in these fields and is home to eight of the world's top international energy companies.
What's more, Perth currently has a skills shortage and is after an additional 40,000 skilled labour workers.
Other popular industries include agriculture, manufacturing, tourism, professional services, and education.
(5) Culture
While Melbourne might be the cultural capital of Australia, Perth isn't far behind. Perth has an abundance of cultural experiences and attractions to explore.
Whether you prefer live music, theatre, comedy, dance, or visual arts you can experience it all in Perth.
Popular attractions include the Art Gallery of Western Australia which showcases artwork from the 1800's to now and the Boola Bardip Museum which tells the stories of the local Whadjuk Nyooar tribe who have occupied western Australia for over 40,000 years.
(6) International Gateway!
Perth may be Australia's most isolated city, but it's also a gateway to the rest of the world.
Whether a trip home for the holidays or a vacation in Bali with Perth's International Airport located just 30 mins from the CBD you're never far away from your next international adventure.
Ready to move to Perth? Get in touch with us at The Moving Company for a free no-obligation quote. With over 35 years' experience, we have helped countless Kiwis relocate to Perth, Western Australia. Get in touch today: 0800 668 464