The Moving Company has undergone the toughest and most strenuous quality assessment in the moving industry and been commended on the results.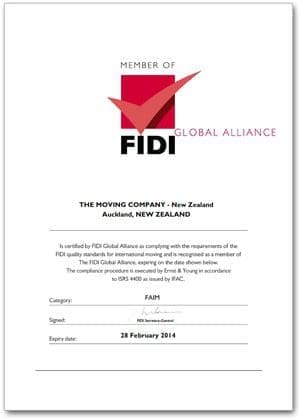 FAIM (FIDI Accredited International Mover) is the most stringent, all-encompassing quality programme based on over 200 defined quality requirements covering company operations and services to customers. Every two years The Moving Company welcomes the opportunity to have an independent assessment of our international moving activities by the Ernst & Young accounting firm.
The Moving Company was personally commended by Michael Cassiers, the Secretary-General of The FIDI Global Alliance, for our performance on the FAIM compliance procedure as verified by Ernst & Young, and awarded the prestigious FAIM 2.0 certificate.
To obtain FIDI-FAIM certification, a company has to comply with global standards and benchmarks for various areas of competence. These rigorous audits consist of reviews of financials, facilities, equipment and materials, staff knowledge, core competencies, management processes, risk management, legal compliance and customer service. Best practices in operations and service quality are tested, as well as the new standards for FAIM 2.0 certification:
security, environmental, and social responsibility;
financial strength and service;
responsiveness and employee training;
protecting both data and customer's physical goods.